ВInspired by the idea to provide luxurious spacious apartments, each with its own private courtyard and impressive views of the city and Vitosha Mountain, we selected a special site with an excellent location in the heart of Boyana, which we combined with the professionalism of LP Arch architectural studio of architect Atanas Panov and created a unique project, which we named Boyana Terrace.
Clients get a new home expressed in a self-contained apartment on one floor, with convenient access to underground garages via lift, as well as its own landscaped garden with tall surrounding vegetation and creating the feeling of a private house with panoramic views at the price of a city apartment.
The concept is realized through a tiered residential building, including luxury three and four bedroom apartments, each of which has a courtyard for private use or a landscaped garden on a panoramic terrace with areas between 90 and 115 m2, their layout is selected to be as sunny as possible.
Boyana Terrace offers a new way of life to its owners in a spacious apartment with the functionality of a house with a courtyard, providing both pleasure, comfort and tranquility at a good price.
Distribution
Choose your new home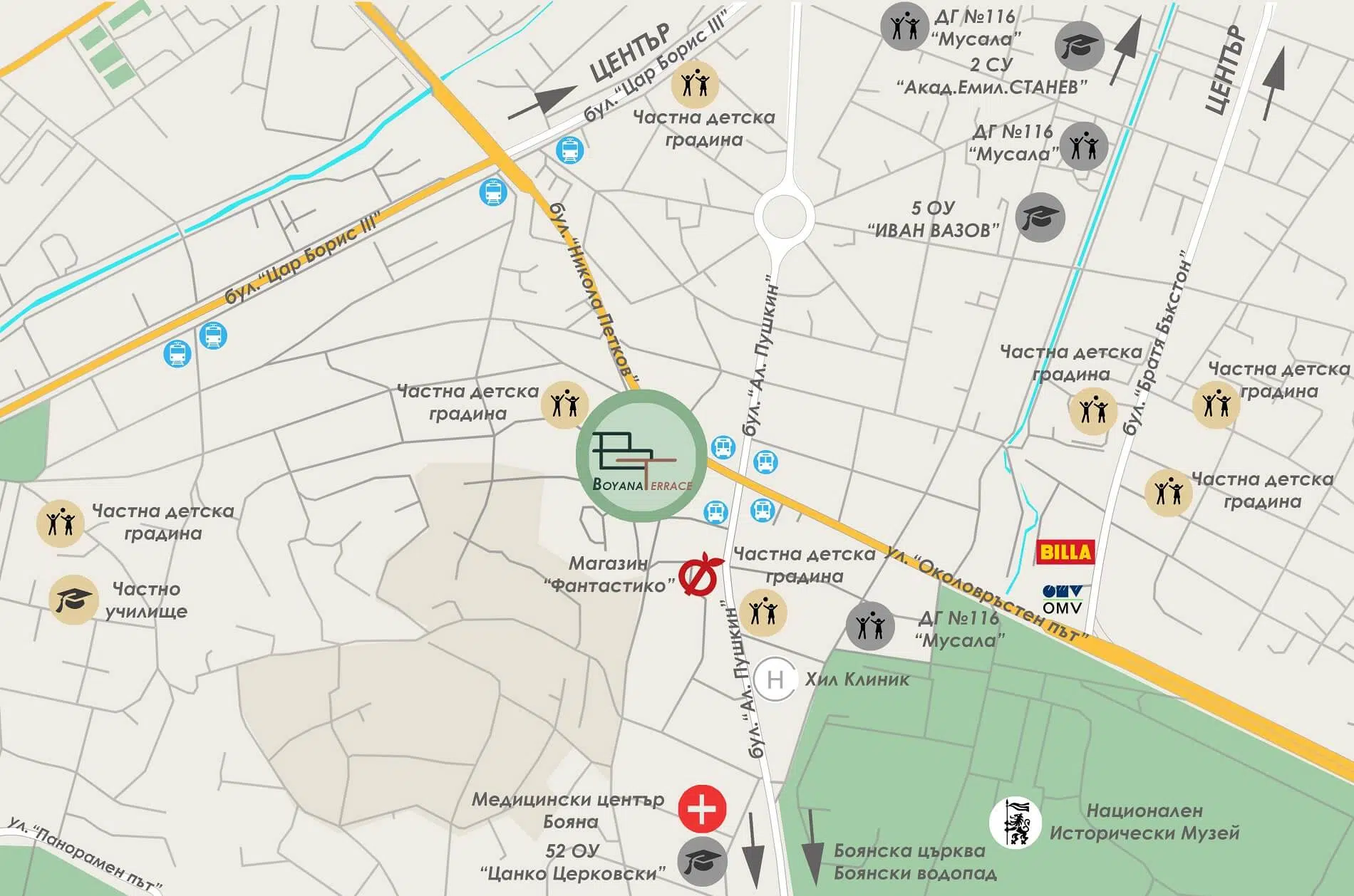 Residential complex Boyana Terrace is located near:
- Vitosha Mountain
A source of fresh air and wonderful views. Where you can enjoy more sun and a healthier environment.
- Quick and easy access via major boulevards
The complex is located close to. Alexander S. Pushkin and Blvd. Nikola Petkov, with several bus and tram stops. Communications are an important criterion that contributes to the easy accessibility of your dream home.
- 400 m from a large grocery store
The amenities in the area always add flavor from the well-chosen location of your home.
- Kindergartens
The proximity of the kindergarten saves valuable time for you and the children, which you can spend together in games, fun and pleasant conversations instead of traffic jams.
- Medical Center
Health is important to all of us, but we often don't have time to pay attention to it. This can change when there is a medical center located near our home.
- The National History Museum
A cultural centre steps away for your leisure.